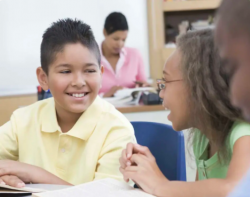 Dear 2nd Grade Families:
The end of the 2020-2021 school year has snuck up on us. It is hard to believe that we will soon be congratulating your child and sending them on to 3rd grade. I am thankful that we are ending the school year with most of our students back in the building – some remain in Edmentum or district comprehensive distance learning.
We work closely with Sam Case Elementary to provide transition activities for 2nd graders. Our Ready Schools Safe Learners guidance from Oregon Department of Education means we are still carefully planning events that limit entry within the schools. Here is the list of activities that are scheduled for your 2nd grader.
"Drive Up" to 3rd Grade –

Monday, June 7 at 6:00 PM – 7:00 PM

Information regarding how this will work will come out by Friday. 

In a nutshell, you and your student will drive through our parking lot where staff will be positioned to wave at and celebrate your student. There will be map to follow from Yaquina View to Sam Case where Sam Case administrators and staff will be present to wave and welcome you. Everyone stays in their cars but we try to make a big deal about the fact that our 2nd graders are moving on or "driving up" to 3rd grade.

2nd to 3rd Grade Virtual Field Trip –

Thursday, June 10 at 9:30 AM – 10:30 AM

This event is only for students to attend

Students will meet their Sam Case principal and assistant principal and staff that all kids see (for example, office, library, PE, Music, etc.). Second grade classes will meet with 3rd grade classes.

 

Welcome to 3rd Grade Family Meeting –

Monday, June 14 at 5:30 PM

Use this

Google Slide

to access the invitation and Zoom link from Sam Case
This is an exciting time as well as bittersweet. Your child has become like my own and while I know that they are off to do great things it is hard for me to let them go. I tell them, "I will see you in 10 years." We expect to see each one back at Yaquina View for the senior walk in caps and gowns. 
It has been an honor and a privilege to be your child's principal.
Sincerely,
Principal Becker
Estimados padres de 2o Grado, 
El fin del año escolar 2020-2021 nos acercó tan rápido. Es difícil creer que pronto felicitaremos su hijo y los mandaremos al 3o grado. Estoy agradecida que terminamos el año escolar con casi todos los estudiantes en el edificio otra vez- algunos quedan en Edmentum o en el aprendizaje a distancia del distrito. 
Trabajamos juntos con la escuela Sam Case para proveer actividades de transición para los de 2o grado. Nuestro guía de Escuelas Preparadas, Estudiantes Seguros del departamento de educación de Oregón significa que estamos todavía planeando actividades que restringen la entrada de las escuelas. Aquí está la lista de actividades que están planeados para su estudiante de 2o grado.
"Manejar a" 3º grado-

lunes, el 7 de junio a las 6:00 PM a 7:00 PM

Información sobre cómo funcionará eso vendrá antes de viernes. 

En pocas palabras, usted y su estudiante manejarán por nuestro estacionamiento donde los empleados estarán para celebrar y saludar a su estudiante. Habrá un mapa con la ruta de Yaquina View a Sam Case donde los administradores y empleados estarán presente para dar la bienvenida y saludar a ustedes. Todos mantienen en sus carros, pero tratamos de hacerlo una gran celebración que nuestros estudiantes de 2

o

grado están moviendo o "manejando" al 3

o

grado. 

2

o

a 3

o

grado Excursión virtual –

jueves el 10, a las 9:30 AM a 10:30 AM

Solo los estudiantes asisten este evento. 

Los estudiantes conocerán a su director y subdirectora de Sam Case y los empleados que todos los estudiantes conocen (por ejemplo, los de la oficina, biblioteca, educación física, música, etc.) Clases de 2

o

grado reunirán con clases de 3

o

grado.   

Bienvenidos a 3

o

grado Reunión de familias-

el lunes, el 14 de junio a las 5:30 PM

Use ese diapositiva google

Google Slide

para acceder a la invitación y el enlace de Zoom de Sam Case.
Este es un tiempo emocionante además de agridulce. Su hijo ha cambiado como mi propio hijo y mientras yo sé que se van a hacer cosas maravillosas, para mí es difícil dejarlos ir. Siempre les digo, "Nos vemos en 10 años." Esperamos ver cada uno otra vez en Yaquina View para el paseo de los estudiantes de último año en sus togas y birretes.
Ha sido un honor y un privilegio ser la directora de su hijo.
Atentamente,
La Directora Becker