Welcome to Yaquina View Elementary!
As your principal, I am excited to welcome you to an amazing school. We have 45 staff members committed to educating our 450 in grades kindergarten – 2nd grade students. As a primary school, we have the opportunity to focus on the  developmental needs of 5 – 8 year olds. While we do focus on reading, writing, and mathematics, we are also cognizant of the social, emotional, and behavioral needs of our students. We take our role as the foundation for learning seriously and as such we look for ways to nurture play and curiosity throughout the day.
For the 2021-2022 school year, we welcome full time Music Teacher Sydnie Landis, English Language Development Teacher Josh Kennett, Structured Learning Center Teacher Connie Pazienza, Kindergarten Teacher Tamara Madden, 2nd Grade Teacher Holly Cummins, 2nd Grade Teacher Elaine Hoach, and not pictured, 2nd Grade Teacher Alena Kness, and Assistant Principal Jackie Hawkins.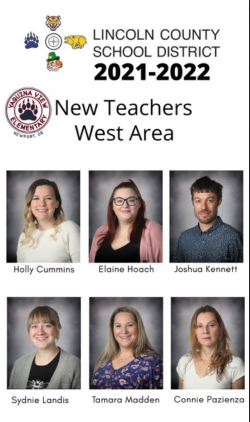 Our school priorities are aligned with the school district priorities. As such, we have several goals that will be our focus for the coming school year. We are excited to be implementing a new math curriculum this school year – Ready Common Core Mathematics. Our school works monthly with the other Kindergarten, First Grade, and Second Grade Schools through the Lincoln County School District. We are excited that we will be using the same curriculum across all schools in the school district. Our school uses reading curriculum, Reach for Reading, published by National Geographic. We focus on researched based strategies to teach phonics. We are in year 3 of AVID Elementary School implementation. The focus for AVID is college readiness – at Yaquina View, we believe you cannot start too early having a focus on college and career readiness. Finally, we have a continued emphasis on good attendance and regular attenders. In order for students to learn and grow, socially, emotionally, behaviorally, and academically, we need students to be at school every day. "10 or less is best" is a slogan adopted by our school district two years ago and will be what we emphasize again. Students who attend Yaquina View Elementary on a variance/transfer request are required to attend at 94% or better.
Family is important to us. Some of our practices are paused due to COVID protocols but we look forward to being able to welcome families back into the school as volunteers and visitors within the coming months. Be prepared for our protocols to include masking, physical distancing, and proof of vaccination (for volunteers). Stay tuned for the invitation to once again volunteer in our classrooms. Once a month, we host Coffee with Kristin so that parents can connect with the principal. Several times a year we invite families in for family nights which are organized by school staff. Our parent boosters, Yaquina View/Sam Case Boosters, is an active part of our school and supports our school through fundraising, volunteering, and funding for projects and arts opportunities. It truly does take a village to raise a child – our school and our families form that village.
It's a great day to be a Cub. We are happy to have you at our school.
Kristin Takano Becker, Principal & National Board Certified Teacher
#growingupcub