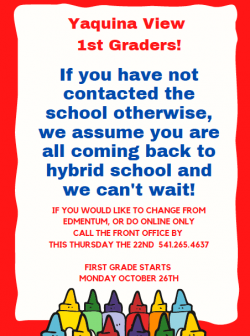 If you are a Yaquina View Virtual School Student or a Yaquina View Edmentum Student, you can choose to change your enrollment status in the following two ways:
Yaquina View Virtual Students are moving to Yaquina View Hybrid on Monday, October 26. If you prefer to remain in online only, you may choose to do so. The online only option will follow an AM OR PM online schedule. We will assign your time to you. Please contact the school office by Thursday, October 22 at 4:00 PM if you prefer to remain online only.
Yaquina View Edmentum Students have the opportunity to join our Hybrid program now by contacting the office by Thursday, October 22at 4:00 PM. We will assign you to a cohort (Monday, Thursday or Tuesday, Friday), in person teacher and online teacher. If you prefer to remain online but would prefer a live teacher, we can make that happen for you as well by assigning you to one of the online only teachers.
Call our school office with any questions at 541-265-4637.