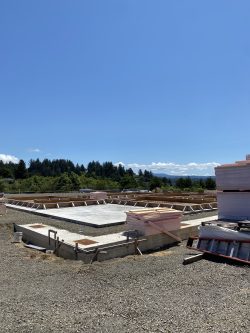 This is a photo taken today, July 8, 2022, of our new gym. Esta es una foto tomada hoy, 8 de julio de 2022, de nuestro nuevo gimnasio.
As of July 8, 2022, the Yaquina View Gym Project is still on hold. There was an issue with a seismic code that prevented the approval of plans. Dr. Karen Gray, LCSD Superintendent, and Rich Belloni, LCSD Director of Facilities & Maintenance, continues to work closely with our project architect and the City of Newport to make the necessary revisions. Our hope is that the project will be able to restart by mid-August 2022. The completion date will be after January 2023. Please email questions regarding this project to Principal Becker at kristin.becker@lincoln.k12.or.us. 
A partir del 8 de julio de 2022, el proyecto del gimnasio Yaquina View aún está en suspenso. Hubo un problema con un código sísmico que impidió la aprobación de los planos. La Dra. Karen Gray, Superintendente de LCSD, y Rich Belloni, Director de Instalaciones y Mantenimiento de LCSD, continúan trabajando en estrecha colaboración con el arquitecto de nuestro proyecto y la Ciudad de Newport para realizar las revisiones necesarias. Nuestra esperanza es que el proyecto pueda reiniciarse a mediados de agosto de 2022. La fecha de finalización será posterior a enero de 2023. Envíe sus preguntas por correo electrónico sobre este proyecto al directora Becker a kristin.becker@lincoln.k12.or.us.